Each month The Insider at Private Art Tours explains the world of an art expert, this time we get to sit down with Vera L'Ecluse, Gallery Relations Coordinator at the powerful contemporary art fair Art Brussels. What makes an art lover an art expert? We were easily convinced by Vera's fascinating stories. Vera L'Ecluse seen through the eyes of her friends could best be described as 'top woman'. Private Art Tours continued its research!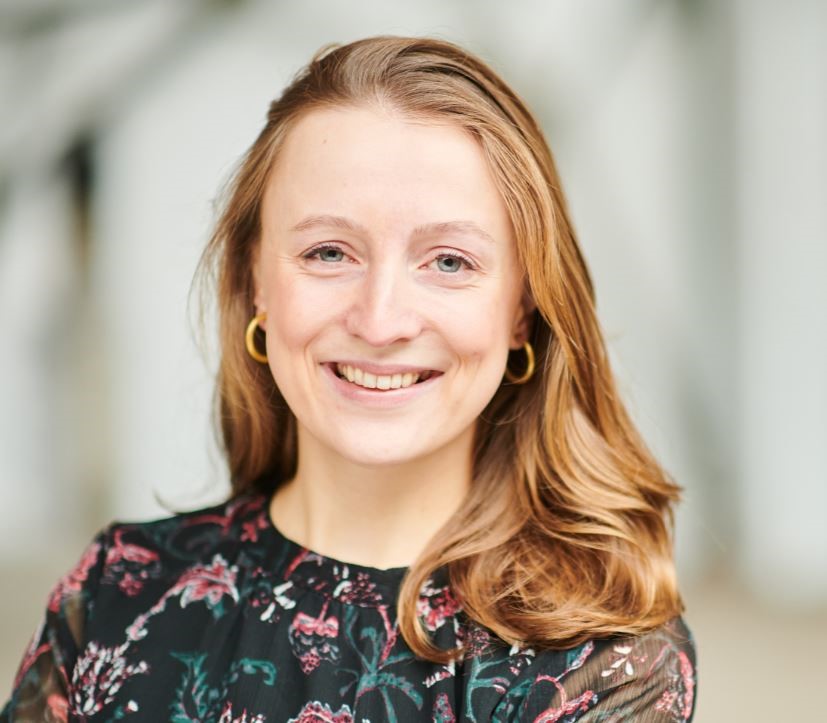 – First of all, who is Vera behind the job?
VERA: (smiles) I see myself as an ambitious person, especially in order to achieve results in my work because it gives a great feeling of satisfaction. Now that I am getting great opportunities, I'm fully set to do something with them. Although I also discovered that it is necessary to be patient, without asking too much. Furthermore, I am a go-getter and I have noticed that mini-passes can be just as important. Although it sometimes asks to make yourself a bit invisible, I will always go for it to achieve a common goal set by the team. If the result is there I don't mind working in the background at this moment in my life. Outside of my work I enjoy art and seeing beautiful things. Being together with family and friends can truly do me well.
– You've come a long, interesting, way in your career, how did you end up at Art Brussels?
VERA: Through a friend, Katinka Vandevelde, I was once asked to help at the fair last minute, this was mainly about unpacking works of art and assisting the artists on the spot. Everything ran very smoothly and operationally I was able to cooperate a lot. The people I had worked with put in many good words afterwards and so I was able to start at VIP Relations. It was all very coincidental but at the right moment, because I was out of a job and had previous gallery experience. So it seemed like a good combination.  
– A wonderful new challenge?
VERA: For me it was great to be on the other side of things during Art Brussels. VIP Relations is working for a year on a schedule to provide the most exclusive experience for the VIPs during the 4 days of the fair. It wasn't necessarily what really got me passionate because you have less contact with the galleries and the artists, but it was a very interesting experience.
Last year I was asked to work more within 'Gallery Relations' as a Gallery Relations Coordinator which is a very beautiful position for me. Many people see galleries in a dubious role and believe they only want to make money at the expense of the artist. But that's a serious misconception, without galleries many successful artists probably wouldn't exist. There is more to a gallery than making profit. Galleries play an important role between museums and artists, and a good gallery confirms this. Unfortunately, there are also many gallerists who are only focused on making profit. Which is understandable because running a gallery is extremely expensive.
– Why do you prefer to work for a fair? and not for a gallery?
VERA: Personally, I wouldn't want to work for a gallery anymore because it's such an intensely personal matter. It's very difficult to work in someone else's gallery and love all his/her artists and defend their work. The only "solution" would be to open a gallery yourself, then you know for sure that you can stand as a block behind every artist on the roster. Who knows, maybe one day.
So it's great to be able to work in the role of gallery relations at Art Brussels. You'll discover an enormous number of artists and can learn a lot from the various gallerists. What fascinates me most here are the stories about the art and artists of the gallerists themselves. After all, some gallerists are fiercely loyal to their artists and sometimes continue to support them throughout their careers, through both the thick and the thin, which is really admirable. I think it's great to gain so much insight into this.
Our primary role is to sell a booth to gallerists, but we also try to make this a worthwhile experience and show this to the gallerists with great enthusiasm. We want to make it perfectly clear that Art Brussels brings top gallerists together and we also ask them to work innovatively. We encourage them to arrange solo exhibitions in which one artist stands in a central position. In this way, we want to remind them that the 'content' of the gallery contributes to the quality of the fair. We also organize artistic projects ourselves, for example by inviting one (or more) artist(s) to set up at one of our sponsor lounges.
– Are these the good times for Belgian artists?
VERA: I think more people get a voice and there is much more diversity to be seen on the Belgian art market. For example, a few years ago Outsider Art was not as visible in Belgium as it is today. It's certainly an exciting time in which a lot is possible.
– What makes Brussels an interesting art hub? What keeps you here?
VERA: Brussels has the big advantage of bringing together a lot of artists in a relatively small area. This makes the city a strategically cosmopolitan place close to other major hubs. Belgium has the reputation of having the highest number of collectors per capita. Moreover, Belgian collectors are known for their hunger for emerging, as yet unknown artists. Art Brussels is doing very well when it comes to international artists. Belgium has a grateful audience, they are interested in young artists. We even have a separate section for them at Art Brussels, Discovery, and we see that it is a success. The gallerists also express that Belgians are a social audience; they come to tell us that there is a lot of conversation with gallerists and that people are curious about unknown artists and galleries. We are dealing here with a modest but serious and captivating audience.
– Since March we all bear the consequences of the Corona virus, Art Brussels was postponed to April 2021. Is there a 'Corona Effect' on young artists and gallerists?
VERA: We have noticed that large galleries continue to sell well, but for small gallery owners this is not at all that obvious. The low turnover due to the virus naturally has a major impact on the smallest galleries. For many, this means less budget to support artists' projects. Unfortunately, most galleries are relatively small in Belgium.
– Corona Effect on Vera?
VERA: Initially, I had one big worry; that I was going to lose my job. Besides that, it was just a great shame that a beautiful moment, the fair itself, couldn't go ahead. In the meantime, it has become clear that every crisis is indeed a challenge: we will have to completely reinvent the concept of the fair and see how it can be done safely in terms of social distancing and paying extra attention to hygiene, without sacrificing the festive connection between gallerists, collectors and artists.
– Reinventing is not always easy, how do you take this challenge?
An important initiative that we are launching during the recent crisis, in collaboration with Gallery Viewer, is an online viewing room. By doing so, we want to give our galleries the opportunity to connect online with our VIPs and visitors and hopefully also sell some work. The difference with other online platforms – because nowadays every art fair offers something similar – is that ours will be open for a relatively long time (almost three weeks) and that we encourage our galleries to change their selection on a weekly basis and always try to present a thematic selection or a solo presentation.   As a result, we will continue the high standards of our fair online, i.e. well-organized and curated presentations. By discovering new things every week, we hope to keep the attention of our online visitors and trigger them to come back several times (while on most platforms only the first day is a hit). Our platform will be launched on May 28th at 11am and will remain open until June 15th. You can easily access it without having to register (also an innovation! this is a low barrier!) and you can find the access button from the 28th of May on the homepage of our website.
– So 'Flattening the curve' also includes a positive effect on you?
VERA: Oh, yeah! I don't have to commute to work, which was a serious commute of an hour and forty minutes to and from work. I now have time for a long walk of an hour and a half every night. At home we cook a lot more and you don't feel like you are missing something, because there is nothing! No more overdrive, no fear of missing out! But I do look forward to taking some of it back, I miss my colleagues very much. In the future I certainly hope to go back to concerts and I am really looking forward to visiting exhibitions again.
– Do you have any 'lock down' tips for us?
VERA: I love to read novels, and actually only novels, because I enjoy them so much. Recently I read the wonderful book 'The Hare with the Amber Eyes' , which is about the family of artist Edmund De Waal. The story about a wealthy Jewish family in the 19th century intrigued me enormously. The family collected precious Natzuke, Japanese handmade pearls from precious materials that are used to hold clothes together. The pearls are works of art in themselves and were still collectable at that time. The book describes how the collection goes from one family member to the next and so you can learn more about the family history. This story brings together everything I'm curious about, Jewish cultural history, art history and recent European history in one very good book!
– Vera after the lock down?
VERA: Corona or not, parents are important! I try to visit them by bike that's an hour and a half ride there and then back again. The galleries will open in the week of May 11th and I will be happy to visit them again. But apart from that I haven't planned any great things, I'm not really eager to go on vacation. Speaking and seeing people in person, that's it!
---
Connect with Art Brussels at www.artbrussels.be. Also follow #onlineexhibitions on social media like Instagram and check out the exhibitions that were ready to be seen! Art Brussels is an art fair for contemporary art and is part of the larger fair company Easyfairs. Vera works in a permanent team of seven members, during the fair this can be up to 150 people. As a result of COVID-19 Art Brussels was postponed to 22 – 25 April 2021 all information can be found on the website.